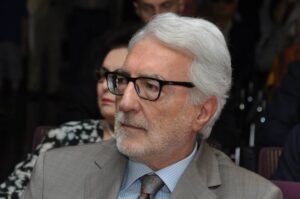 Valerio Caprara (Rome, 1946) was Professor of History and Criticism of Cinema at the Faculty of Letters and Philosophy of the University of Naples "L'Orientale" until 2011 and he held courses at the Faculty of Sciences of the formation of the University of Naples "Suor Orsola Benincasa" until 2015. Since 1979 he has been a film critic for the newspaper "Il Mattino".
A scholar of modern and contemporary Italian cinema and the classic genres of American cinema, he is the author of numerous books and monographs (Sam Peckinpah, La Nuova Italia, 1975; Walerian Borowczyk, La Nuova Italia, 1980; Samuel Fuller, La Nuova Italia, 1984; ; I film di Alfred Hitchcock (with Natalino Bruzzone), Gremese, 1982; Dino Risi – Maestro per caso, Gremese, 1993; Mordi e fuggi – La commedia secondo Dino Risi, Marsilio, 1993; Sicilia e altre storie – Giuseppe Tornatore, Edizioni Scientifici Italiane, 1996; Steven Spielberg, Gremese, 1997; Spettabile pubblico – Carosello napoletano di Ettore Giannini, Alfredo Guida Editore, 1998, best film book award at the Ephebe d'oro in Agrigento 1999; Sentieri selvaggi – Cinema americano  1979 – 1999 , 4 vols., Bulzoni, 2003; Il buono, il brutto, il cattivo – Storia delle storie del cinema italiano, Alfredo Guida Editore, 2006; Quando il neorealismo si trasforma in commedia. Il segno di Venere by Dino Risi, Lindau, 2007 ; Dizionario del cinema erotico, Mondadori Electa, 2007, best film book award at the Incontri con l'utore in Assisi 2008) and numerous essays in collective volumes (Le Dive, Laterza, 1985; I Divi, Laterza, 1986; Napoletana – Images of a City, Fabbri / MOMA in New York, 1993; Clara Calamai – L'ossessione di essere diva, Marsilio, 1996; Italy and America 1943-44, Istituto Italiano per gli studi Filosofici/La città del sole, 1997; Vittorio Gassman, Marsilio, 1999; Lo sguardo eclettico – Il cinema di Mario Monicelli, Marsilio, 2001 ecc.).
He has written entries for catalogs, yearbooks and encyclopedias (including the Encyclopedia of Cinema and the Biographical Dictionary of Italians Treccani) and is the author of the documentary film Incontro con Dino Risi, 2001, produced for the Archivio della Memoria series of Scuola Nazionale di Cinema – CSC. He has written in the main national specialized magazines (from "Bianco e nero" to "Segnocinema" and "La Rivista del Cinematografo"), won the Meccoli prize for film criticism in Assisi in 1997 and the Flaiano in Pescara in 2009, he was author of texts and conductor in voice and video of numerous RAI programs and from 2007 to 2020 he was a regular guest of the Cinematografo broadcast on RaiUno.
Artistic director of  Incontri Internazionali del Cinema di Sorrento from 1983 to 2000, he curated sections of the Meeting Cinema and Storia of San Marino and of the Giffoni Film Festival. In 1985 the Ministry of Culture of the French Republic awarded him the title of Chevalier de l'Ordre des Arts et des Lettres. From 2011 to 2016 he was a member of the film commission at the Ministry for Cultural Heritage and Activities and from 2010 to 2018 President of the Film Commission Foundation of the Campania Region. He is currently a member of the scientific committee of Cineteca Nazionale-Centro Sperimentale di Cinematografia e of the Accademia del Cinema Italiano, David di Donatello Awards.
https://www.caprimovie.com/wp-content/uploads/2020/07/Capri-Movie-logo-300x254.png
0
0
wp_4800208
https://www.caprimovie.com/wp-content/uploads/2020/07/Capri-Movie-logo-300x254.png
wp_4800208
2021-04-21 14:14:11
2021-04-22 08:27:04
Artistic Director