GISELLA CALABRESE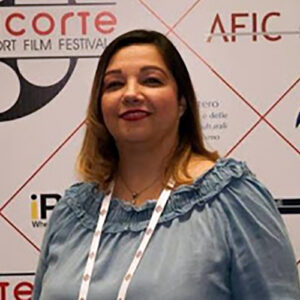 Class of '77. She is a linguist, editor and blogger, she graduated with honors in Foreign Languages ​​and Literatures, with a master in Linguistics and Philology.
During her studies, she has taken several exams related to film grammar, dubbing, translation and adaptation of dialogues and screenwriting.
She has written an essay on cinema and literature published by Historica Edizioni.
Gisella has been the artistic director of Visioni Corte International Short Film Festival since 2012, for which she has received, over time, many certificates of esteem and recognition for her work. Her empathy and her preparation have allowed her to approach the world of short films with deep respect. She is the co-founder of the Cultural Association Il Sogno di Ulisse which has been working in the area for 9 years with a large series of initiatives aimed at raising awareness and disseminating culture in the round, especially screenings and books.
GIUSEPPE MALLOZZI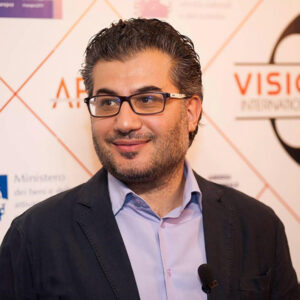 Journalist, born in 1976. He is a reporter for the newspaper "Il Messaggero" and editor-in-chief of the online newspaper Temporeale.info.
He has got a degree in Modern Literature at the "Federico II" University of Naples and a master in online communication. He also specializes in the SEO department, creating and managing political and information blogs, with targeted search engine rankings.
In the cinema field Giuseppe has directed five short films. He is the author of the short story book Scherzi del destino (Sovera, 2008), and of the essays Manuel Puig – La vita, la letteratura, il cinema (Arduino Sacco Editore, 2009) and Il binomio Gutenberg-Lumière ( Historica Edizioni, 2011). He has published the ebookL'ultimo Vampiro e altri racconti  (Ali Ribelli Edizioni, 2018).
President of the Cultural Association "Il Sogno di Ulisse" of Minturno (LT), member of FEDIC – Italian Federation of Cineclubs, which is responsible for raising public awareness of the Seventh Art. President of Visioni Corte International Short Film Festival of Gaeta (LT), which is a member of AFIC – Associazione Festival Italiani di Cinema, now in its 9th edition. Member of the National Board of FEDIC – Italian Federation of Cineclubs.
Giuseppe is also the artistic Director Janara Horror Fest of Formia (LT), an event dedicated to the fantastic in cinema, books and comics, now in its 3rd edition.